The following section provides guidance on how to create a VendorMatch profile so you can be found by Financial Institutions (FIs), as well as how to complete our RFX survey for sharing RFI level data with Celent and -- if desired -- with other third parties.
If in any doubt about data security, please see our section on Vendor Data Protection & Privacy FAQs which explains how your data is shared only with FIs, as well as how more granular data is further protected by our vendor controlled release process.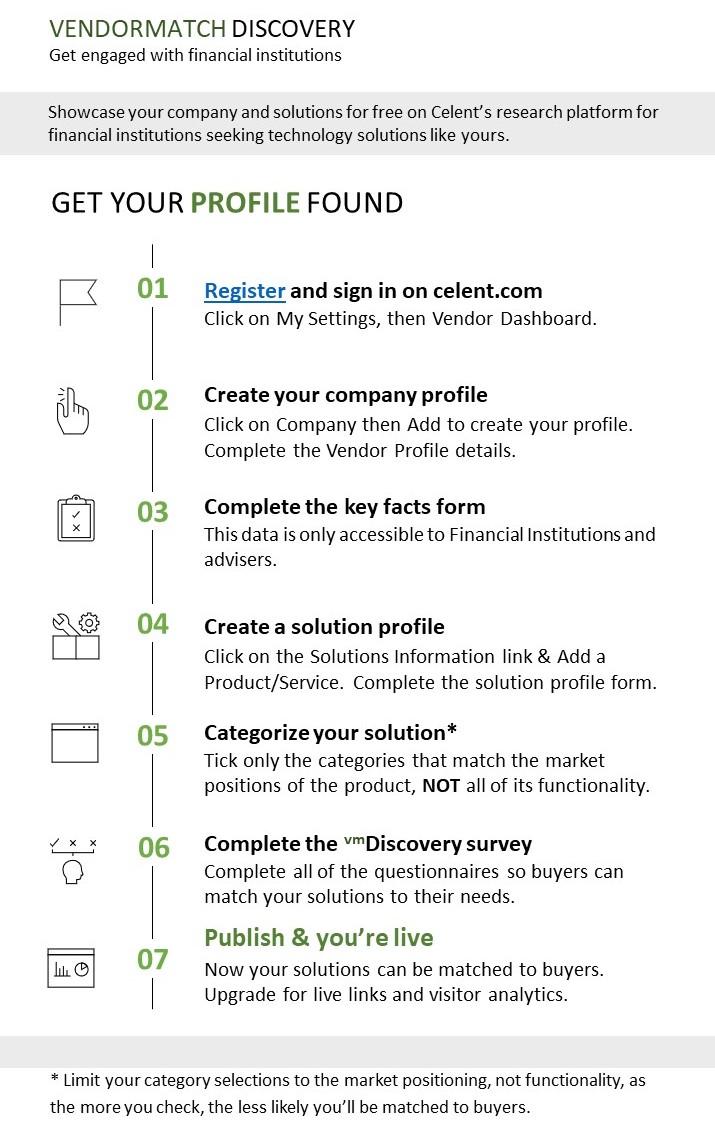 VENDORMATCH GUIDE FOR VENDORS (2020 VERSION)
In addition to watching the video tutorial above, you may also download a full VendorMatch & RFX Tutorial for vendors to look over in your own time. The full downloadable documentation is available in the following formats:
AS A DOWNLOADABLE PDF
You are welcome to open the tutorial as a PDF file, which is widely supported by most systems for you to view, follow and refer back to as a guide on setting up and maintaining your VendorMatch profile.
Click here to download our comprehensive VendorMatch Guide for Vendors (2020 PDF Version).
AS A POWERPOINT PRESENTATION
You may view the same documentation as a PowerPoint document if you prefer and have a system that supports the *pptx format
Click here to download our VendorMatch Guide for Vendors (2020 PowerPoint Version).